Our boat wraps offer new avenues to promote your business.
At King Tutt Graphics, we specialize in large-scale imagery for installations such as mall barricades, trade show displays, wall murals, window films, and vehicle wraps. For our vehicle wraps, we also believe that it's foolish to limit our capabilities to only trucks and land vehicles, and so we are proud to offer high-quality boat wraps as well. With our boat wraps, you will have the opportunity to spread your brand to a new audience by taking advantage of the often overlooked potential of water transportation.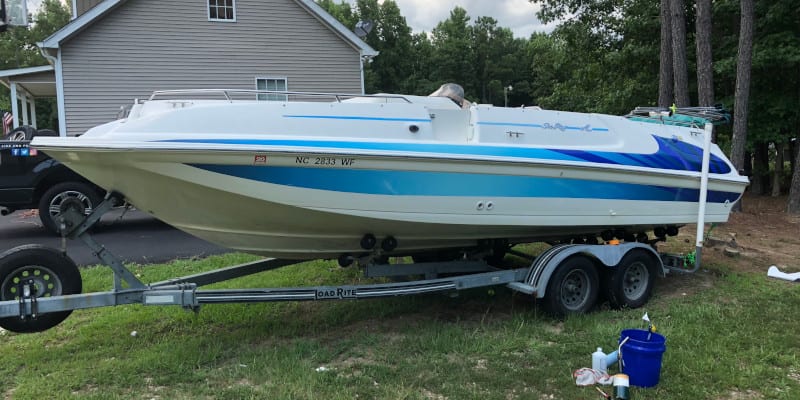 Like all our products, our boat wraps offer unparalleled image quality and resolution. With King Tutt Graphics, not only are you sure to get a sharp, beautiful image, but our team will also work with you to refine and hone your design to convey the essence of your brand in the most visually striking and effective way possible.
Producing images at such large scales presents unique challenges, and our team is highly experienced at navigating those difficulties to give you the best results. When designing your wrap or display, we also keep in mind the specific conditions it will be displayed under, which includes accounting for the wind and water conditions a boat wrap will need to withstand. You can count on our team to deliver a high-quality boat wrap that will continue to look great in any condition.
At King Tutt Graphics, we are proud to serve the Raleigh, North Carolina community. If you are interested in promoting your business on the waterways, give us a call today to learn more about our boat wraps.
---
At King Tutt Graphics, we create boat wraps in the Triangle, Wake County, Johnston County, and the rest of North Carolina, including Raleigh, Durham, Cary, Apex, Burlington, Charlotte, Morrisville, Clayton and Smithfield, as well as South Carolina, Georgia, Florida, Virginia, Washington DC, and Maryland.