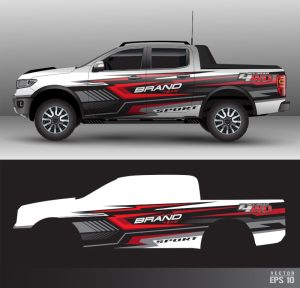 If your business uses company vehicles, we at King Tutt Graphics encourage you to use fleet wraps in your promotional efforts. For those who don't know, fleet wraps are large-scale graphics applied to vehicles — specifically, your company's delivery vans, trucks, and other vehicles — to showcase your business' branding.
Our team has been creating high-quality fleet wraps for many years, and you can count on us to make your fleet look amazing. In this article, we'll provide more information about how to design effective fleet wraps to promote your business.
Clarity is key – When designing fleet wraps, make sure the message is clear. Show each iteration of the design to people who have never seen it before to make sure the text and images are conveying the message you want.
Keep it concise – Remember your fleet wraps will be displayed on your vehicles, so most of the time people will be seeing the wraps when they are on the road. It's hard to read a lot of text while you are driving, so we recommend keeping the text on your fleet wrap design as concise as possible. Your company name, slogan, and contact information should be enough.
Work with the vehicle – A third tip for designing better fleet wraps is to make the design work with the silhouette of the vehicle. It's relatively easy to design for box trucks because their sides are completely flat, but it is more challenging to design for a curvy car. However, our team has extensive experience in designing wraps for all kinds of vehicles, and we'll make sure your car and the wrap complement each other.