Keep your sea-faring vessels fresh with quality boat graphics.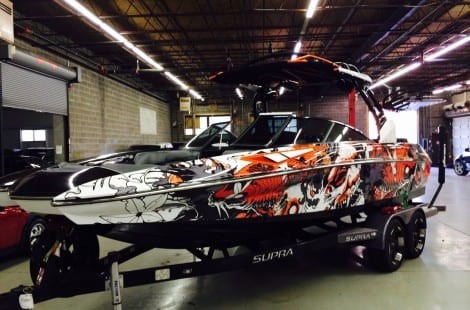 Owning a boat is a great way to spend time in the outdoors! Whether you are relaxing on the water or getting some water sports time in, the enjoyable nature of a boat can't be denied. With all that time in the sunshine and water, your boat can start to look faded over time. If your boat is looking sun-bleached or just needs a little more definition and pizzazz, we want to help you here at King Tutt Graphics with our customizable boat graphics.
When you are looking for a boat graphic for your Raleigh, North Carolina sea craft, you might be surprised to learn that not all boat graphics are the same. Some boat graphics are of no better quality than a large sticker! Our boat graphics, on the other hand, are made to last. Even with the constant sun and water, our boat graphics are of such high quality that they last for up to five years! With our professional and experienced installation process, your boat graphics will go on clean and smooth without dimpling or bubbles.
In addition to being durable, you can also count on our boat graphics to come out clear, sharp and defined. If you have ever tried to enlarge a low-quality picture, you know what a low-quality graphic will look like once enlarged to a bigger size! We can help you find or design unique boat graphics that can withstand the weather elements and look great doing it. Contact us today if you have and questions about boat graphics.
---
At King Tutt Graphics, we create boat graphics in the Triangle, Wake County, Johnston County, and the rest of North Carolina, including Raleigh, Durham, Cary, Apex, Burlington, Charlotte, Morrisville, Clayton and Smithfield, as well as South Carolina, Georgia, Florida, Virginia, Washington DC, and Maryland.